The AHA ACLS app is the American Heart Association's (AHA) officially endorsed digital health solution to assist clinicians in running codes and delivering bedside ACLS care with actual patients. The AHA ACLS app contains clinical protocols, content, and resources to help healthcare professionals and EMTs provide lifesaving ACLS at the point of care.

The app was developed by Harvard-trained physicians, in collaboration with the AHA and Massachusetts General Hospital, to help fellow physicians, physician assistants, nurse practitioners, and EMTs deliver the highest level of ACLS.

Users can rapidly access 4 ACLS algorithms:
Cardiac Arrest
Tachycardia with Pulse
Bradycardia with Pulse
Post Cardiac Arrest Care
This app includes all ACLS content including drug therapy and dosing, reversible causes, etc, and is regularly updated with the most up to date ACLS content. This is a subscription-based application.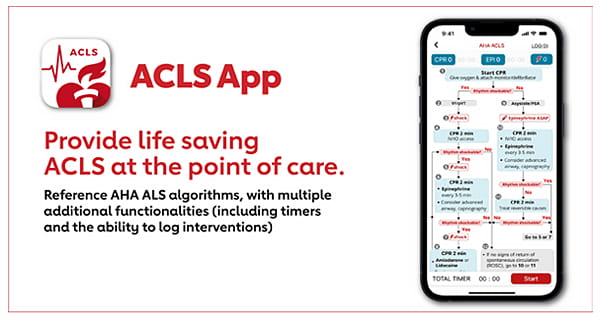 ---