Course Card Reference Guide
AHA Emergency Cardiovascular Care (ECC) course cards are available only to authorized Training Centers (TCs) with a confidential security code issued by AHA National Center ECC Programs. Each student who successfully completes an AHA ECC course will be issued the appropriate course card, which bears an AHA logo. The TC conducting the course is responsible for card issuance and security through its instructors and Training Sites.
See the Course Card Reference for full details about AHA Course Completion Cards. (Updated: December 2020)
Please review the Course Card Reference Guide (PDF)
Please review the Supplemental Heartsaver Course Card Reference Guide (PDF)
Access Your AHA eCard
View your eCard Profile
Verify an eCard
Lost Your Course Completion Card?
How can I tell if my card is a valid AHA course completion card?
---
As a global leader in fighting heart disease and stroke, the American Heart Association training programs are of the highest quality. To verify you have completed a genuine AHA course, ensure your card looks like the one below.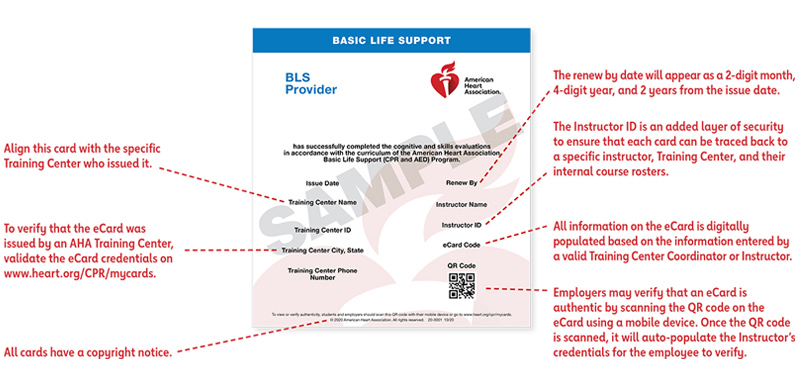 eCards are a simple, secure, and convenient way to issue course completion cards.
Students and employers can check training status of any eCard holder 24 hours a day, 7 days a week.
Align this card with the specific Training Center who issued it.
To verify that the eCard was issued by an AHA training center, validate the eCard credentials through the "Certificate/Card Lookup" on www.heart.org/CPR/mycards.
All cards have a copyright notice.
The expiration date will appear as a 2-digit month, 4 digit year, and 2 years from the issue date.
All information on the eCard is digitally populated based on the information entered by a valid Training Center Coordinator or Instructor.
The Instructor ID is an added layer of security to ensure that each card can be traced back to a specific instructor, training center, and their internal course rosters.
Employers may verify that an eCard is authentic by scanning the QR code on the eCard using a mobile device. Once the QR code is scanned, it will auto populate the
Instructors credentials for the employee to verify.
Download the PDF that outlines the unique security features of the AHA eCard.
Checking Validity
To check the validity of an AHA course completion card, contact the Training Center that issued the card. The Training Center's information can be found on the back of the card. You can also check our Course Card Reference Guide (PDF).
While other organizations may offer similar cards, it is important to recognize the differences between non-AHA cards and valid AHA course completion cards.
To check the validity of an AHA eCard, visit the My Cards page and enter the code found on the card. If the information is not found on the My Cards page, please visit RQI Card verification or CPRverify verification, for cards outside the U.S.
Course Completion Card FAQs
I lost my paper course completion card. How do I get a replacement?
It is the responsibility of the AHA Training Center to issue a duplicate paper card or eCard if a paper card is lost, mutilated or otherwise becomes unusable. All requests for duplicate or replacement cards must be submitted directly to the Training Center that issued the original card. Please note that a Training Center may charge a fee for reissuing a card.
Students can access their eCards at www.heart.org/CPR/mycards (opens new window). All current and previously issued eCards are available in their student profiles.
When can I expect to receive my course completion card from the AHA?
Training Centers must issue course completion cards within 20 days of successful course completion. Please contact your AHA Instructor or Training Center Coordinator if you have any questions about your card.
How do I make a change to the information on my Completion Card?
You will need to contact your Training Center to make any edits to your Paper Completion Card.
Students can now edit their own eCards. Previously, only the TCC or TC Administrator could make changes on behalf of students. Students can request changes from their eCards Student Profile page, and then the TCC will be alerted to accept or deny the changes.
When do I need to renew my course completion card?
Course completion cards are valid for two years through the end of the month during which the course completion card was issued. For more information, please refer to the Course Card Reference Guide (PDF).
My card is about to expire. How do I get a new one?
Contact an AHA Training Center near you to inquire about your options for renewing your course completion card. The Training Center will also be able to answer questions about class availability and cost. Find a Training Center near you or contact the Training Center that issued your previous card using the contact information on the back of the card.
If you don't remember your Training Center's information, here are some tips to help.
Ask a coworker or friend who took the class with you. The Training Center's information can be found on the back of his or her card.
If your school or employer made the arrangements for the class, he or she should have the Training Center's contact information.
Do you have a student manual/workbook from the class? It may have a label on it that includes the Training Center's name.
Search for Training Centers with our Training Center Locator tool in the same area where you took the class.
If you are unable to get a response from your Training Center, please email

AHAInstructorNetwork@heart.org

, and include the following information:


Name of Training Center
Instructor's First and Last Name
City and State
Details of your complaint
Is my AHA course completion card accepted in all US states?
Yes, AHA course completion cards are accepted in all US states.
Can I use my Heart and Stroke Foundation of Canada course completion card for employment in the US?
The Heart and Stroke Foundation of Canada (HSFC) works closely with the AHA. The HSFC provider card is recognized by the AHA and can be used for admission to an AHA provider course (renewal or update) or Instructor course in the same discipline. The HSFC Instructor card is recognized by AHA Training Centers the same way as an Instructor card issued by an AHA Training Center.
We suggest that you show your employer the AHA Course Card Reference Guide (PDF). to see pictures of HSFC cards and read about our relationship.