Back to search
CPR & First Aid Anywhere Training Kit
Anyone. Anytime. Anywhere. Learn and teach the lifesaving skills of CPR and First aid with our CPR & First Aid Anywhere Training Kit. Easily facilitated by anyone, this video-based kit can be used to train hundreds of individuals.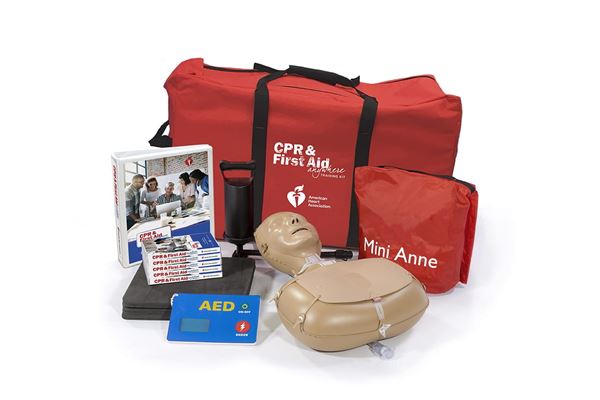 Training Kit Information
Developed by the American Heart Association, the trusted leader in heart health and education, this kit incorporates the very latest science. Participants practice on a manikin while watching skills performed correctly on the DVD, a research-proven way to learn and retain lifesaving CPR skills.
Course Materials
CPR & First Aid Anywhere Training Kit (15-1082) ISBN: 978-1-61669-729-7
The training kit includes
1 wheeled carry bag
10 Mini Anne Plus inflatable manikins
10 kneel mats
10 individual carry bags
5 practice-while-watching training DVDs
(code to access streaming video is also included)
1 hand pump for manikin inflation

2 mesh collection and storage bags
10 replacement airways
50 manikin wipes
10 replacement face masks
10 AED training simulators
1 facilitator binder with a facilitator guide
Kurt's Story
When someone collapsed at his workplace, Kurt was not afraid to step in and perform CPR until emergency help arrived. About 20% of cardiac arrests happen in public places and it is important to remember that as a bystander, your actions can only help.
Contact Your Community CPR Managers