Back to search
CPR in Schools™: First Aid
The American Heart Association wants everyone to know how to help in an emergency. That's why we've developed CPR in Schools: First Aid. This educational, easy-to-use program is designed to teach middle and high school students, teachers, and staff the first aid skills they need to be prepared to act in an emergency. Each CPR in Schools: First Aid eBook comes with a supplementary streaming video, and any student or teacher can facilitate the video's modules within one class period.
CPR in Schools: First Aid can be used as a standalone course or in conjunction with the American Heart Association's CPR in Schools™ Training Kit.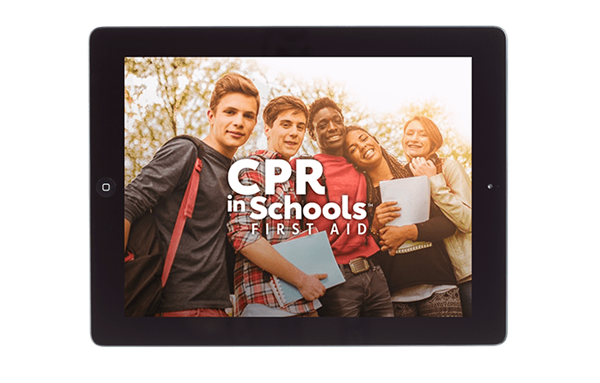 Course Information
Developed by the American Heart Association, the trusted leader in heart health and education, this course incorporates the very latest science.
Course Materials
CPR in Schools: First Aid (15-3117) ISBN 978-1-61669-752-5
The CPR in Schools:
First Aid course topics include:
Bleeding and Bandaging
Heart-related Illnesses
Diabetes and Low Blood Sugar
Fainting
Seizures
Allergic Reactions and Breathing

Concussion
Head, Neck, and Spine Injuries
Drug Overdose and Alcohol Poisoning
Risks of Smoking and Vaping
Benefits of a Healthy Lifestyle
CPR in Schools Training Kit
CPR, if performed immediately, can double or triple a person's chance of survival. Sadly, that happens less than 10 percent of the time outside of the hospital. You can make a difference in your school and community with the CPR in Schools Training Kit. The kit is easy to use and contains everything you need to train 10 to 20 students in CPR at one time. Let's work together to create the Next Generation of Lifesavers.
Contact Your Community CPR Managers