Learn it Anywhere, Anytime with Heartsaver®: Flexible CPR & First Aid Training
You never know when you'll need to save a life. We can help make sure you are ready with a variety of courses designed to prepare you for real life situations. With convenient training available throughout the United States, Heartsaver courses offer blended learning and instructor-led classroom options for those that may or may not require a course completion card for work. Join our mission to save lives.
Know what kind of Heartsaver training you need?
Sign Up Now
We offer both blended learning and instructor-led classroom First Aid CPR training solutions for your workforce. Select the training solution that best fits your needs.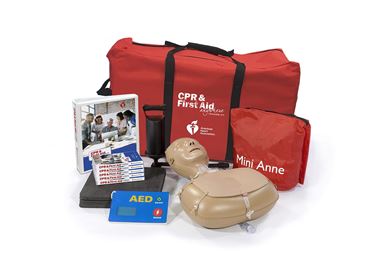 CPR First Aid Anywhere Training Kit
Learn and teach the lifesaving skills of CPR and First aid with our CPR & First Aid Anywhere Training Kit. Easily facilitated by anyone, this video-based kit can be used to train hundreds of individuals.
Share Our Vision
The American Heart Association invites you to share our vision: a world where no one dies from cardiac arrest. Every year, 475,000 people die from cardiac arrest in the United States. Big number. Bigger opportunity. With your help, we can bring that number down to zero. Join us today, starting with this video.
AHA Blended Learning & eLearning: Take Your Organization's Training to the Next Level
eLearning increases retention 25-60%. Use our guide to help you through the process of evaluating if your organization is ready to transition to eLearning training.