How the AHA is Taking Care of the Training Network and Healthcare Providers
We're listening to your questions and feedback.
As the COVID-19 pandemic evolves, the AHA is here to support you and serve as a trusted resource to allow for the continuance of safe, high-quality CPR training. We understand the inherent challenges with providing training during this unprecedented time.
Our top priority is the safety of both AHA Instructors and learners.
We care about you and your safety. We're closely monitoring the pandemic to determine the options for delivering resuscitation education while taking the proper precautions.
To help save lives, training has become even more critical. Training provides lifesaving education that equips healthcare providers with the skills they need. We want to make it easy for you to provide training in a safe manner. Therefore, when and where it is possible for you to offer training, the AHA is providing flexibility through the current training options below.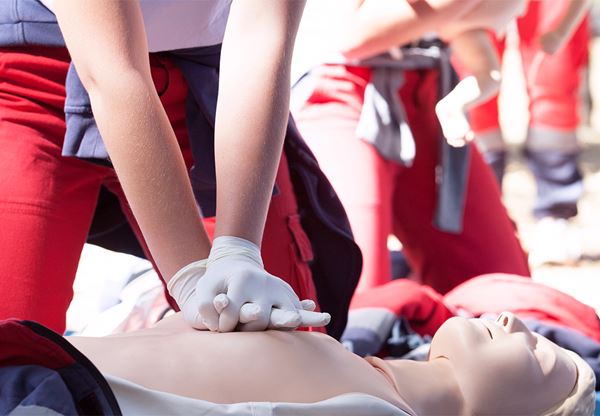 Blended learning options
NOTE: For students taking blended learning courses who cannot attend an Instructor-led skills session during this time, they can consider completing the online portion of the course and then complete the skills session when training schedules return to normal. Please note, there is no time limit for completing a hands-on skills session following completion of the online portion of the course.
Blended learning for healthcare providers
AHA HeartCode®

Blended learning courses such as the AHA's HeartCode program or adopting RQI® (Resuscitation Quality Improvement®) are among options to consider.

For CPR training in the age of social distancing, blended learning courses and RQI may be an option for your organization. Both solutions are self-learning resuscitation programs and will allow your staff to maintain critically important High-Quality CPR competence through individual activities that preserve social distancing. Both programs achieve competence without the need to be away from the bedside in a classroom setting.
Blended learning for non-healthcare providers
AHA Heartsaver®

The Heartsaver First Aid CPR AED Blended Learning Course combines online instruction with a hands-on skills session. The course teaches participants to provide first aid, CPR, and use an AED in a safe, timely, and effective manner. The course is designed for those with little or no medical training who want to be prepared for an emergency in any setting.
Virtual training options
Please consult your AHA Training Center or Instructor for details about virtual skills training options for AHA provider-level courses. Training Centers and Instructors can find more information in the Training Updates section of the AHA Instructor Network.
Optional instructional changes during COVID-19 outbreak
Instructional precautions

When training or skills sessions are possible during the COVID-19 pandemic, instructional procedures should include equipment decontamination, special precautions for ventilation skills, and appropriate spacing of manikins.
Additional options for Heartsaver
Guidance is available specific to Heartsaver First Aid CPR AED skills training.
Card extensions

The AHA has provided an extension on AHA Instructor Cards and Provider Cards for 120 days past their recommended renewal date for cards that expired in March, April, May and June 2020.
Advice and Options
As always, the AHA advises all AHA Training Centers (TC) and Instructors follow the existing recommendations of the Centers for Disease Control and Prevention (CDC) and the World Health Organization (WHO), as well as their local government or public health authority as it relates to actions around COVID-19. In accordance with the guidelines released by local government, the Training Center leadership should use discretion to evaluate the risk of disease transmission in their area before organizing any training events and take necessary precautions to avoid transmissions
These options and other COVID-19 information will be updated as needed. For more information on COVID-19 guidance to the AHA Training Network, please continue to check your email and notifications placed on the COVID-19 CPR & Resuscitation webpage, Instructor Network, and Instructor Community regularly.
Additional Resources for Healthcare Providers
The American Heart Association also is concerned about our healthcare systems and providers. We recognize that providers are working long hours outside their usual roles to help COVID-19 patients, including those who are critically ill and on ventilators. We're working to ensure healthcare systems and providers on the frontlines have the training and resources they need. We're investing in programs that help with treatment and ensure optimal care for patients. Some examples include:
Oxygenation & Ventilation of COVID-19 Patients Digital Hub
In conjunction with the American Association for Respiratory Care and the American Society of Anesthesiologists, the American Heart Association rapidly launched free Oxygenation and Ventilation of COVID-19 Patients modules, which are now available worldwide.
Additionally, to help healthcare providers improve their ventilation skills, the AHA launched a COVID-19 Ventilator Reskilling Course, which is an adaptive, eLearning course that will boost knowledge and competence.
Scientific Statement, Algorithms, Free eLearning Course for Resuscitation of COVID-19 Patients
On April 9, 2020, the AHA and several other healthcare organizations released Interim Guidance for Basic and Advanced Life Support to help rescuers treat victims of cardiac arrest with suspected or confirmed COVID-19. The evolving and expanding outbreak of COVID-19 cases creates challenges around resuscitation efforts and requires potential modifications of established processes and practices. To support this interim guidance, the AHA has also released new algorithms and a free adaptive eLearning course for healthcare providers specific to treatment of COVID-19 patients.