Courses and Kits
Access information on our CPR classes, training kits, and more.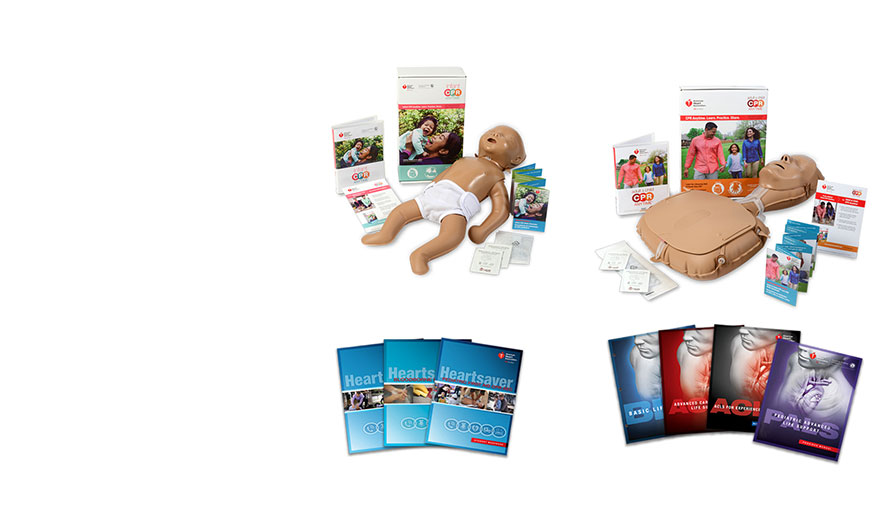 Heartsaver courses are designed for anyone with little or no medical training who needs a course completion card for their job, regulatory (for example, OSHA), or other requirements. Are the Heartsaver courses right for me? Heartsaver courses are ideal for workforce employees (for example construction, childcare, health & fitness, hospitality, and more) or for those who want to be prepared for an emergency in any setting.
Courses for Medical Professionals
For those working in healthcare required to have a course completion card, or who need continuing education credits.
Advanced Cardiovascular Life Support (ACLS)
This advanced course highlights the importance of high-performance team dynamics and communication, systems of care, recognition and intervention of cardiopulmonary arrest, immediate post-cardiac arrest, acute dysrhythmia, stroke, and acute coronary syndromes (ACS).
Achieving Accuracy: BP Measurement
The AHA and the American Medical Association have collaborated to develop a new eLearning competency training module focused on ensuring that every health care professional measures BP accurately and consistently every time.
Basic Life Support (BLS)
BLS courses teach both single-rescuer and team basic life support skills for application in both prehospital and in-facility environments, with a focus on High-Quality CPR and team dynamics.
Pediatric Courses
Pediatric Advanced Life Support [PALS] & Pediatric Advanced Emergency Assessment, Recognition and Stabilization [PEARS®]
Opioid Education
Learn what an opioid overdose looks like and how both healthcare providers and lay rescuers can help combat this epidemic.
Resuscitation Quality Improvement Program (RQI)
The RQI® Program is the performance improvement program from AHA that delivers quarterly training to support mastery of high-quality CPR skills