Building Healthy Lunch Habits at Work
Having trouble figuring out how to have a healthy lunch at work? You've got company.
More than half (56%) of employed Americans who typically eat lunch during work struggle to make that meal healthy, and more than nine in 10 are interested in making their work lunches healthier, a survey from the American Heart Association and the food service company Aramark has found.

It's a problem with implications for the rest of the day. More than three quarters of those surveyed say they're more likely to make healthier decisions at other times of the day if they eat healthy at lunch.
The survey was conducted online by The Harris Poll among 907 employed U.S. adults age 18 or older who say they typically eat lunch during work hours.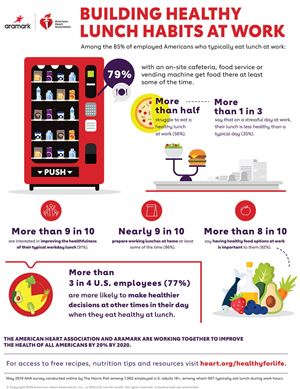 Among those surveyed:
91% want to make their typical workday lunch healthier. Those younger than 40 are more likely to be extremely or very interested, compared to employees older than 40 (65% vs. 55%).
More than 4 in 5 (82%) agree that having healthy food options at work is important, and more than 2 in 3 (68%) value help from their employer in becoming healthier.
Nearly 9 in 10 (86%) prepare work lunches at home at least some of the time, with women more likely to do so than men (91% vs. 82%).
When eating an unhealthy lunch, employees younger than 40 are more likely to be affected at least a little bit by cost (91% vs. 79%) and choices of their peers or co-workers (75% vs. 50%) than employees older than 40.
On a stressful workday, about 1 in 3 (35%) says their lunch is less healthy than on a typical day, with women more likely to say so than men (40% vs 32%).

The survey was done on behalf of the American Heart Association and Aramark as part of their joint initiative, Healthy for Life 20 By 20.

Dr. Anne Thorndike, vice chair of the American Heart Association's Nutrition Committee and associate professor at Harvard Medical School, said the findings could have a far-reaching positive influence.
"Understanding what employees are eating for lunch on a typical workday and what factors influence their choices helps us develop strategies to improve dietary intake with multi-level approaches through food systems, communities and individuals," she said.

Inspired by its collaboration with the American Heart Association, Aramark has worked to improve nutrition across its menus in colleges and universities, hospital cafés and workplaces. The initiative has resulted in a 15% average reduction in calories, saturated fat and sodium, and significant increases in fruits, vegetables and whole grains at those dining location menus.
"Aramark and the American Heart Association are proud of our shared commitment to help millions of people lead healthier lives," said Dan Wainfan, vice president, Brand Health, Wellness and Nutrition at Aramark.
Healthy for Life offers free educational programming and support resources.
---